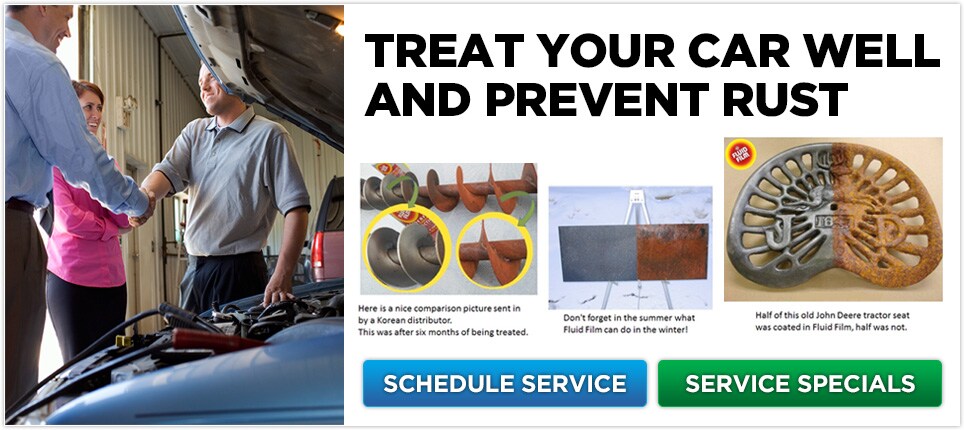 $375 for initial application and $295 for a maintenance application
Fluid Film Prevents your Ford from Rusting
While Maine is a lovely place to live year-round, the snowy winters and salty sea air do not make for an ideal environment for your Ford. The weather and other natural environmental factors wear down your vehicle causing rusting and corrosion, which can lead to weakened frames and sub-frames, deteriorated body panels and rusted brake lines. Rust can be a major problem for Maine drivers, but don't fret, because the fantastic service team at Casco Bay Ford specializes in protecting your vehicle.
Our Ford service center near Falmouth offers Fluid Film treatments to better preserve your vehicle's pristine condition. Initially, our service team will thoroughly clean the undercarriage of your Ford and apply a generous coat of Fluid Film. After the first treatment is complete, we'll continue to service your vehicle annually to prevent corrosion. We're confident regular Fluid Film treatments will drastically slow and reduce environmentally-caused damage to your vehicle.
Cars rust when the metal beneath the paint is exposed to air, so even a small scratch can degrade the vehicle. Besides cosmetic damage, corrosion on the thinner parts of your vehicle can cause holes in the body. Rust is especially dangerous on the frame of your Ford, where it compromises the structural integrity of the vehicle and its ability to protect you in a crash. Rust damage is expensive to repair, but when you make an appointment at Casco Bay Ford for one of our affordable Fluid Film treatments, you'll save yourself time and money down the road.
Fluid Film's unique wool-wax formula has proven resilient throughout the years. Originally created in the early 1940's, Fluid Film was used to protect U.S. Navy ships during World War II. Since then, it's made a profound difference in protecting nuclear submarines, space shuttles and now your Ford from natural deterioration! Visit our Ford service center near Freeport today for your treatment.