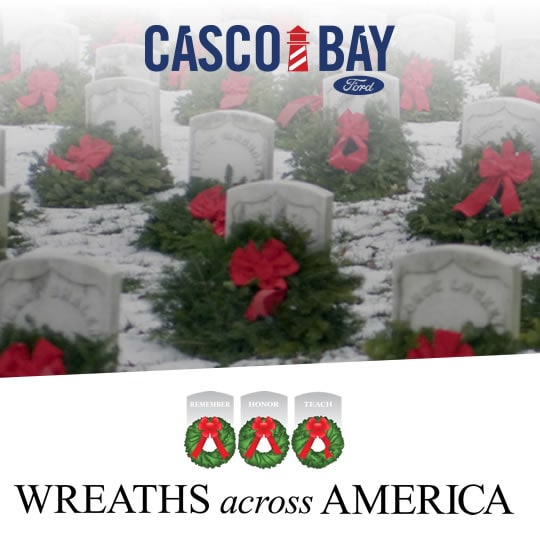 What: Driver 4UR Community Fundraiser for Wreaths Across America
Where: Yarmouth Town Hall
When: Veteran's Day (11/11/2017) from 9AM to 3PM
Details:
Did you know you could help raise up to $6,000 for Wreaths Across America by taking a simple test-drive?
Casco Bay Ford and Veterans Count are partnering on Veterans Day, Saturday, November 11th for Ford's Drive 4 UR Community event. For every test drive taken, Ford Motor Company will donate $20 to Wreaths Across America. In total, the community can help raise up to $6,000, an amount that will prove to be beneficial to their mission! Each December on National Wreaths Across America Day, their mission to REMEMBER, HONOR AND TEACH is carried out by placing live Maine made wreaths at Arlington National Cemetery, as well as over 1,200 additional locations.
Join us at Yarmouth Town Hall from 9:00am to 3:00pm as we celebrate our Veterans and military personnel. Food will be available from Pat's Pizza and Wicked Good Dogs, and Veterans eat free!
8:00am - American Legion Post #91 Flag Ceremony
11:11am - American Legion Veterans Day Ceremony
All Day - Drive 4UR Community Event
All Day - American Legion Turkey Drive
All Day - Wreath Sponsorship Sales by Veterans Count, an Easterseals of Maine Program
In an effort to go further, Ford developed the Drive 4 UR Community program, which is modeled after the successful Drive 4 UR School program. To date, Ford dealerships across the United States have helped raised more than $35 million for local schools and non-profits thanks to their hard work and partnership with the Drive 4 UR School and Drive 4 UR Community programs.