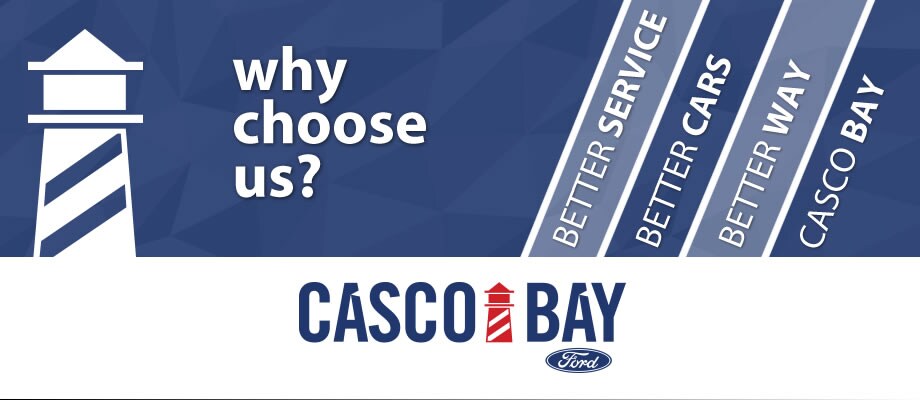 PROUDLY SERVING MAINE FOR OVER 50 YEARS
We are proud to have been a part of Southern Maine's business community for over 50 years, welcoming thousands of customers from across New England. Whether you are looking for a new Ford dealer to serve your needs or you have been a customer for decades, we will always provide the most professional, personal and courteous service.  We invite you to see the difference and join the Casco Bay Ford Family.

At the heart of our business are the people that make it up. We are proud of our experienced and talented team; coming from all walks of life and with varying specialties and abilities, we are united in a sincere desire to provide the best service. The Casco Bay Ford team is the most qualified, customer focused group possible and we will never stop working hard for our customers and communities.

We are immensely proud of our carefully selected, customer-centric inventory that allows the widest array of choice for all who visit our dealership. If you are in the market for a new car we are priveleged to be able to sell all models of new Fords and our inventory of used vehicles including pre-owned Fords truly set us apart from any other dealer. We are also home to one of Maine's most experienced and well equipped Ford Service departments; with experts in every aspect of modern vehicles we are proud to be able to service all makes and models, every day.
Above all else, we at Casco Bay Ford strive to provide a new and better way of purchasing and servicing vehicles - one that doesn't live up to the out-dated and high -pressure environments that many dealers still practice today. We will never allow ourselves to forget our responsibilty to our local community and all of our customers to live up to our historic reputation as a moral corporate citizen and a true customer-focused business.